SEP 8, 2021 5:06 PM PHT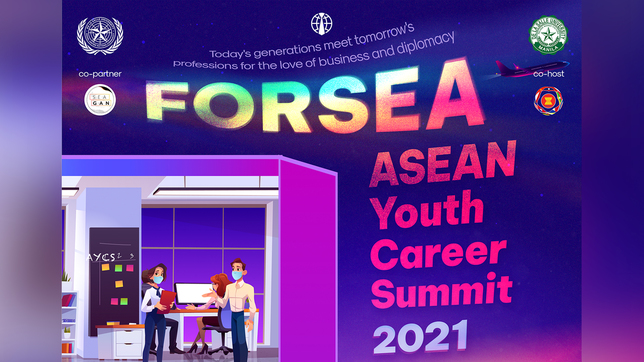 MANILA, PHILIPPINES
PRESS RELEASE: The ASEAN Youth Career Summit 2021 will feature world-class executives and leaders in the ASEAN community through the Corporate Panel and Global Affairs Panel forums
This is a press release from the De La Salle Model United Nations Community.
Aiming to give global and local job opportunities and employment consultations for future professionals of the global affairs and business fields, the De La Salle University, through the De La Salle Model United Nations Community, is set to hold its first ASEAN Youth Career Summit 2021 (AYCS 2021) on September 9 to 10.
As the sole and primary organization for all activities related to Model United Nations in De La Salle University, the organization provides an avenue for Lasallians to enrich their knowledge about the art of diplomacy and actively contribute to the Sustainable Development Goals.
The De La Salle Model United Nations Community has been successfully and consistently implementing its annual event, the De La Salle Model United Nations (DLSMUN) which simulates the meetings of selected United Nations (UN) committees with high school, undergraduate, and graduate students as delegates and committee Dais members.
The event's launch will feature a series of keynote presentations led by Br. Bernard Oca, Rosanna Llenado, the CEO of AHEAD Learning Systems; His Excellency Kung Phoak, the Deputy Secretary-General of ASEAN for ASEAN Socio-Cultural Community; and Brandon Lee, the group director of Workforce Singapore.
ADVERTISEMENT
Devcurate's CEO and founder, Aanas Ali, and Boldr's Impact Manager, Glo Anne Guevarra, will also demonstrate their expertise in professional development in facilitating workshop sessions that will harness the ASEAN youth's promising skill sets and value systems as assets for their professions.
The second day will feature panel discussions dubbed as Corporate Panel and Global Affairs Panel forums, which will be spearheaded by world-class executives and leaders in the ASEAN community.
The Corporate Panel forum consists of prestigious businessmen and world-class corporate executives who contribute to global economic and societal developments in the ASEAN community, such as:
Atty. Fredieric Landicho, CEO of Deloitte Philippines
Beatrice Nacor, director of Superchido
Victor Osman, CEO of Dreamaxtion
Alyssa Garma, CEO of Garma Farm
Jojo Flores, co-founder of Launch Garage
Kevin Eniego, AVP for Marketing in Philippine Digital Asset Exchange
Aaron Sitosta, Venture Builder of Kodego
Kenny Hutomo, O2O Channel Development Executive of L'oreal Indonesia
The panelists will discuss and address matters related to assessing in-demand jobs of fastest-growing industries in Southeast Asia, promoting diversity in the ASEAN workplace as an ethical labor trend of 21st-century globalization, and instilling corporate social responsibility (CSR) in the ASEAN workforce during and post-COVID-19.
On the second day, the Global Affairs Panel forum will bring an enthusiastic conclusion to ACYS 2021 as it highlights the efforts being carried out with regard to exploring career paths in the ASEAN diplomatic sector during COVID-19, fostering crisis-resolution skills and social awareness among ASEAN diplomats, policymakers, and public officials, and bridging the historical and present generations of public service in the ASEAN.
The forum will feature keynote presentations from the following:
Leni Robredo, vice president of the Republic of the Philippines
Morris Fedeli, the project lead of THRIVE Project, on how the ASEAN youth's career development promotes quality education (SDG 4) and decent work and economic growth (SDG 8)
Muflih Dwi Fikri, the CEO of Global Millenial Group, on the role of ASEAN youth in the future world of work.
This will be followed by a panel discussion featuring exceptional leaders and executives, such as:
His Highness Tunku Zain Al-'Abidin Ibni Tuanku Muhriz of Malaysia, founding president of IDEAS
Asec. Eduardo Menez, assistant secretary of the Office of Public and Cultural Diplomacy
Asec. Marian Jocelyn Tirol-Ignacio, deputy assistant secretary of the Office of ASEAN Affairs
Asec. Dominique Rubia-Tutay, concurrent director for Department of Labor and Employment – Bureau of Local Employment
His Excellency Steven J. Robinson AO, Australian ambassador to the Philippines
Interested participants are invited to join AYCS 2021 as official delegates by signing up here.
For further updates, follow AYCS 2021's Facebook, Instagram, and Twitter accounts. – Rappler.com
The ASEAN Youth Career Summit 2021 extends its gratitude to its co-presenters: Deloitte and Devcurate. The team is also grateful to its major sponsors: Launchgarage, PDAX, Garma Farm, AHEAD Learning System, Thrive, Global Millenial Group, Dreamaxtion Workbank, Morning Clothing, Gardenia, Zalora, Soletees, Kynd Studios, Wick it! Candles, and Rappler's MovePH.